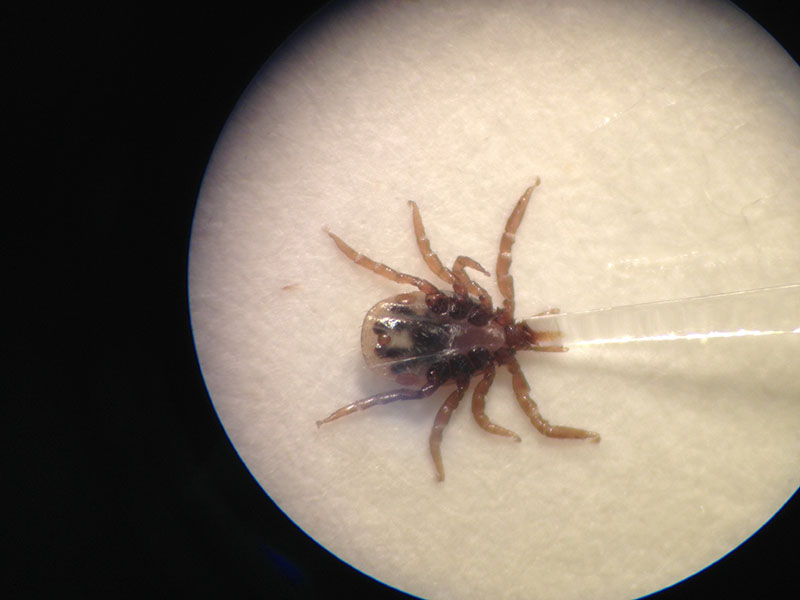 The Vector-Borne Infectious Disease and Diagnostic Parasitology (VIDDP) Core is housed within the Division of Immunology. 
The Vector-Borne Infectious Disease component currently produces tick vectors for research on Lyme disease and other tick-borne diseases. All of the developmental stages of the hard tick Ixodes scapularis are made available for research purposes. The lab historically maintained mosquitos for research and retains the capability to propagate this vector as well. 
The types of services provided include the provision of ticks for:
Tick-mediated infection
Capillary feeding of ticks with select pathogens
Xenodiagnosis 
Collection of tick saliva
The Diagnostic Parasitology (DP) component provides diagnostic services to clinical veterinarians and core and affiliate investigators when parasitic diseases are suspected in resident nonhuman primates. Animals from the TNPRC breeding colony are examined regularly for parasites as part of the preventive health program. The diagnostic parasitology lab also examines samples from animals entering an experimental protocol, as the presence of parasites may influence clinical results.
The Core provides the broadest service, in that it not only assesses animals assigned to specific projects but also colony and quarantine animals. Parasites such as Strongyloides fuelleborni, which may cause broncho-pneumonia and enteritis, Trichuris trichiura and Giardia lamblia (also causes of enteritis) may be effectively diagnosed and treated so as to preserve the health of the individual and the colony. The DP lab effectively services all of the investigators that hold animal projects at the TNPRC or that receive samples from nonhuman primates housed at the TNPRC.
The types of services include: 
Blood parasite detection via microscopic examination of prepared blood smears and quantitative buffy-coat analysis (QBC). 
Intestinal parasite detection via microscopic examination of direct wet mounts, zinc sulfate flotation prepared slides, or parasite-specific assays.
Contact
Monica Embers, PhD, Director of the VIDDP Core
Amanda Tardo, Lab Supervisor of the Vector (tick) lab
Chad Massey, MSPH, Lab Supervisor of the Diagnostic Parasitology lab