18703 Three Rivers Road, Covington, LA 70433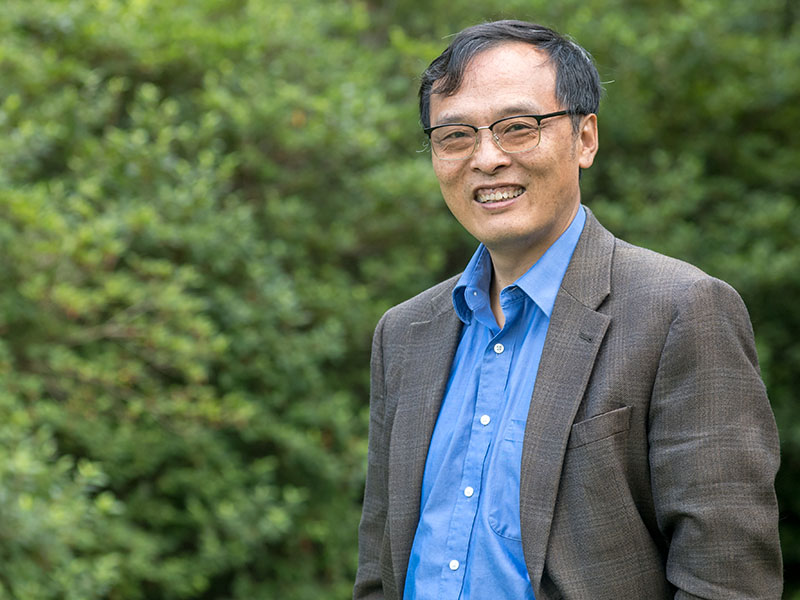 Biography
Professional Awards
---
Poster of Distinction Award Brigham and Women's Hospital 2003
Junior Investigator Travel Award American Heart Association 2008
Travel Award Federation of Clinical Immunology Societies 2008
Education & Affiliations
Wannan Medical College, Wuhu, China, MD, 1986 Tongji Medical University, Wuhan, China, MS, 1991
Peking Union Medical College & Chinese Academy of Medical Sciences, Beijing, China, PhD, 1996
Research
My research focuses on defining the role of innate immunity including complement system and monocyte activation in the pathogenesis of human diseases, such as HIV infection, HIV-associated cardiovascular diseases, and on developing a novel cell ablation research tool for broad scientific applications. I have extensive expertise in immunology, monocyte & macrophage biology, complement, HIV-1 therapy, atherosclerosis, and cancer biology. One of my research focuses has been to identify novel approach targeting complement system for HIV-1 therapy.
Another portion of my research is to investigate HIV-associated cardiovascular diseases, such as atherosclerosis. My major contributions to the fields include: 1) generation a novel and potent anti-MAC regulator CD59 inhibitor, a potential therapeutic candidate for control HIV-1 infections. 2) generation of the novel mouse model for HIV-associated atherosclerossi, 3) establishment of the causative role of MAC in atherosclerosis, 4) documentation of the inhibition of MAC with a targeted complement inhibitor as a potential novel approach for the treatment of atherosclerosis-associated complications, and 5) generation of a human CD59 mediated novel cell ablation for dissecting immune cell functionality and differentiation.
Research Interests
---
Therapeutic anti-hCD59 inhibitor for HIV and Ab-based cancer therapy
Intermedilysin (ILY), a cytolytic pore-forming toxin secreted by Streptococcus intermedius, lyses only human cells due to its receptor specificity for hCD59. Domain 4 of ILY binds to the AA42-58 region in hCD59, which also participates in the binding to C8 and C9. I demonstrated that the recombinant protein (114AA) derived from the ILY domain 4 (rlLYd4) specifically blocks hCD59 function, potentiates the antibody-mediated CDC effect on cancer cells and inhibits human xenograft tumor growth. It also potentiates endogenous anti-HIV antibody-mediated complement-dependent virolysis. The objective of this project is to develop the anti-hCD59 inhibitor for cancer and HIV therapy.
Universal rapid cell ablation model
We generated a universal rapid cell ablation model. We tested this ablation technique in various disease models and found it valuable for the study of cellular functionalities, tissue injury and regeneration, and neural injury. Currently, multiple investigators in USA are exploring the use of our model system in numerous areas. My lab is utilizing this tool to investigate the circulating and resident renal macrophage development, trafficking and gene expression, and study the mechanism underlying endothelial cell regeneration. I are collaborating with the faculties in the primate center to identify specific immune cells as additional latent reservoirs for HIV-infection in non-human primate model.
HIV-1-associated cardiovascular diseases (CVD)
HIV infection is associated with an increased risk of cardiovascular disease (CVD). Further study of the cellular and molecular mechanisms underlying HIV-1-associated CVD helps better develop and design the novel therapeutic strategies for atherosclerosis-associated CVD. However, the mechanisms underlying HIV-1-associated atherosclerosis have not been fully elucidated experimentally. This is mainly due to lack of the mouse model. I have generated and characterized a new mouse model for HIV-1-associated atherosclerosis. Currently, we are utilizing clinical samples and animal models (both mice and non-human primates) to investigate the atherogenic role of caspase-1 pathway activation and tryptophan catabolism via the kynurenine pathway in HIV-associated CVD and test the novel therapeutics for treatment of the disease.
Contributions
Key Publications
---
Feng D, Dai S, Liu F, Ohtake Y, Zhou Z, Wang H, Zhang Y, Kearns A, Peng X, Zhu F, Hayat U, Li M, He Y, Xu M, Zhao C, Cheng M, Zhang L, Wang H, Yang X, Ju C, Bryda EC, Gordon J, Khalili K, Hu W, Li S, Qin X*, Gao B., Cre-inducible human CD59 mediates rapid cell ablation after intermedilysin administration, Journal of Clinical Investigation, 2016; 126(6):2321-33. (* senior authors).
Hu W, Yu Q, Hu N, Byrd D, Amet T, Shikuma C, Shiramizu B, Halperin JA, Qin X. A High-Affinity Inhibitor of Human CD59 Enhances Complement-Mediated Virolysis of HIV-1: Implications for Treatment of HIV-1/AIDS. J Immunol. 2010;184(1):359-68.
Wu G, Hu W, Shahsafaei A, Song W, Dobarro M, Sukhova GK, Bronson RR, Shi GP, Rother RP, Halperin JA, Qin X. Complement Regulator CD59 Protects Against Atherosclerosis by Restricting the Formation of Complement Membrane Attack Complex. Circulation Research. 2009; 104(4):550-558.
Hu W, Ferris S, Tweten RK, Wu G, Bronson RT, Halperin JA and Qin X. Conditional, rapid and targeted ablation of cells expressing human CD59 in transgenic mice by intermedilysin. Nature Medicine. 2008;14:98-103.
See complete list of publications here
Key Presentations
---
Going Beyond CD59, A Key Complement Regulator: From Anti-Cancer to a Universal Cell Ablation Model Invited lecture, Department of Anesthesiology, Washington University School of Medicine in St. Louis, Nov. 7, 2017
A Novel Rapid Cell Ablation Model for Studying the Pathogenesis of Human Diseases, Invited presentation in Symposium for NeuroHIV and Alcohol Abuse, Miami, Florida, May 18, 2016