Professor of Pathology and Laboratory Medicine
Chair, Division of Comparative Pathology
18703 Three Rivers Road Covington, Louisiana 70433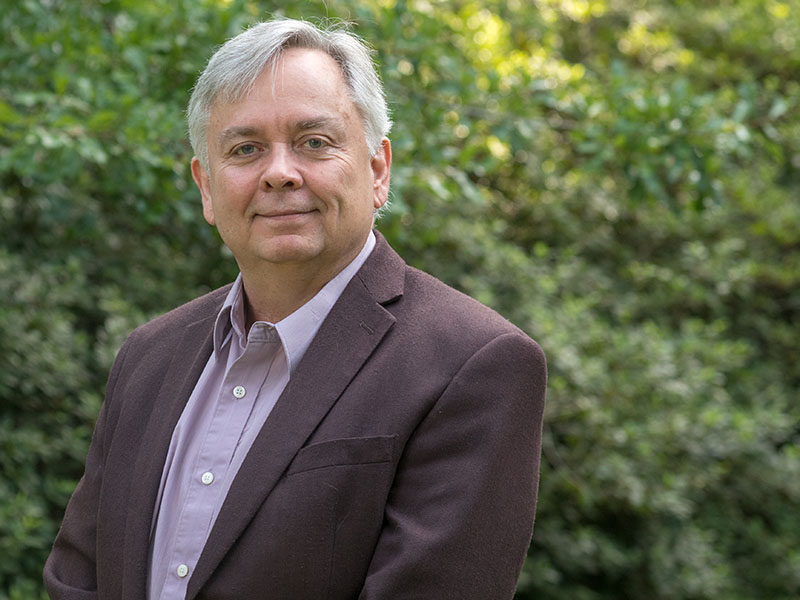 Biography
Dr. Veazey is a professor in the Department of Pathology and Laboratory Medicine at the Tulane University School of Medicine, and has been chair of the Division of Comparative Pathology at the Tulane National Primate Research Center since 2003. He is a recognized expert on SIV and HIV infection and pathogenesis, a specialist in mucosal immunology, and in examining the earliest events in SIV transmission, immunology, and pathogenesis. As a veterinary pathologist, he has extensive training and experience in the comparative anatomy, histology, immunology, and pathophysiology of disease in both human and non-human primates. His research program has focused on the pathogenesis and immunology of AIDS since 1994, and he has developed an extensive HIV prevention research program to test the safety and efficacy of topical and systemic prevention and vaccine strategies using nonhuman primate models of HIV transmission. He has over 200 peer-reviewed publications including several invited reviews and commentaries on the transmission and pathogenesis of AIDS. His work is nationally and internationally recognized, and he is frequently an invited speaker at both domestic and international AIDS meetings. He is a member of the TNPRC Executive Committee, the TNPRC Pilot Research Program Committee, the Mucosal Immunology Working Group of the HIV Vaccine Trials Network (HVTN), the American Foundation for AIDS Research (AmFAR), the European Combined Highly Active Anti-Retroviral Microbicides Program (CHAARM), the Center for HIV and Vaccine Immunology (CHAVI), has served as a permanent member of the NIH AIDS Immunology and Pathogenesis (AIP) Grant Review Study Section, and as Chairperson of the NIH Vaccine Study Section (VACC).
Editorial Responsibilities
Journal of Medical Primatology
Member, editorial board
AIDS Research and Human Retroviruses
Member, editorial board
Public Library of Science (PLoS One)
Academic editor
Pathogens and Immunity
Academic editor
Education & Affiliations
DVM, Veterinary Medicine, Oklahoma State University. Stillwater, OK
PhD, Veterinary Pathology, Louisiana State University, Baton Rouge, LA
Postdoctoral Fellow, Harvard University, Cambridge, MA
Research
My laboratory focuses on the pathogenesis, immunology, and prevention of HIV infection and AIDS using nonhuman primate models. My particular expertise is in examining the role of mucosal and systemic lymphocytes in the pathogenesis and resistance to SIV infection, with an emphasis on CD4+ and CD8+ T cell responses, innate lymphoid cells (ILC), Treg, and Tfh cells, especially in mucosal tissues. I have also developed a strong HIV vaccine and microbicide testing program and have contributed multiple invited reviews on mucosal immunology and nonhuman primate models for HIV prevention strategies. I am a Tenured Professor of Pathology and Chair of the Division of Comparative Pathology at the Tulane National Primate Research Center (TNPRC) and have over 20 years of experience in the comparative anatomy, histology, immunology, and pathophysiology of disease in both human and nonhuman primates. I serve on multiple HIV vaccine and immunology committees, have served for several NIH regular and special emphasis panel study sections, amfAR, and the Bill and Melinda Gates Foundation, and was a member of the NIH AIDS Immunology and Pathogenesis study section (2004-2008) and chaired the NIH AIDS Vaccine study section from 2015-2017. I have over 200 peer-reviewed publications and have been an invited speaker or chair at over 120 meetings of HIV prevention or immunology. My lab first  elucidated the role of the gastrointestinal tract in early SIV/HIV pathogenesis, and currently focuses on prevention of infection, particularly in mucosal tissues. 
AIDS prevention and treatment
Dr. Veazey is actively testing new HIV prevention strategies including topical microbicides, long acting systemic or implantable delivery devices, and various vaccines and adjuvants for HIV prevention. He is also studying the earliest cellular targets and immune responses after both vaginal and rectal mucosal viral challenge to identify new targets or therapies for prevention. Finally, he is working with multiple collaborators on latency reactivation, and immune modulation to assist in viral eradication and cure strategies. He is also an expert in mucosal immunology, particularly the gastrointestinal and reproductive tracts. His work has identified the intestine as the major target for HIV amplification, as well as the major reservoir for viral persistence in both spontaneous controllers, and antiretroviral treated macaques, and is currently testing new strategies to eradicate reservoirs specifically in intestinal tissues. Finally, Dr. Veazey is a member of the NIH Simian Vaccine Evaluation Units (SVEU) team, and performs PI driven and collaborative research in the design and execution of HIV vaccine studies.
Mucosal immunology of HIV
Using SHIV and SIV macaque models, Dr. Veazey is studying the effects of pathogenic infection on mucosal tissues, especially CD4+ T Cell subsets. In recent publications, he has shown that activated, memory CD4+ T cells are selectively infected and eliminated within days of SIV infection; that Treg, and especially Th17 and Th22 cells are rapidly infected and depleted in early SIV infection of mucosal tissues, resulting on simultaneous loss of suppression to normal antigens, and breakdown of the IL-17/IL-22 dependent mucosal barrier, leading to systemic activation, driving HIV persistence and replication. His lab also demonstrated the mechanisms by which TFH cells become infected, subsequently down regulate CCR5, and persist as both latent and productively infected cells within the sanctuary sites of germinal centers and that these infected cells are functionally deficient in their ability to promote antibody responses.
Neonatal immunology and pediatric AIDS
Infants and children are more susceptible than adults to a variety of infectious diseases, particularly those of viral origin. This is particularly evident in children with HIV, who have a more rapid disease course and increased viral loads as compared to adults. For over 20 years the Veazey lab has been studying the normal development of newborn and neonatal primates by immunophenotypic analysis, cytokine production, and chemokine receptor expression in all of the major lymphoid tissues and organs of neonatal rhesus monkeys and have discovered several remarkable differences between the newborn primate and adult immune systems, including a selective infection and depletion of proliferating CD4+ T cells in infants that rapidly exhausts their T cell precursors, which may explain the more rapid progression to AIDS.
Alcohol and AIDS pathogenesis
For over 15 years, Dr. Veazey has collaborated with the Comprehensive Alcohol Research Center, LSU Health Sciences Center, in testing the effects of alcohol co-administration on SIV infection in macaques. We have designed jackets and tether systems in which alcohol may be delivered daily at precise doses into the stomach of animals without requiring sedation or other manipulations. His lab showed that alcohol markedly accelerates CD4+ T Cell turnover, specifically in the intestine, resulting in higher levels of target cells, increased set point viremia, and accelerated progression to disease. This system could also be adapted to test other drugs that need to be administered daily.
Herpes simplex virus (HSV) infection models
Dr. Veazey has recently been testing HSV-1 and 2 vaccine candidates with multiple collaborators. He has developed both HSV-1 and HSV-2 challenge models in NHP to test the efficacy of HSV vaccines.
Contributions
Veazey RS. Intestinal CD4 Depletion in HIV / SIV Infection. Curr Immunol Rev. 2019;15(1):76-91. PMCID: PMC6701936.
Veazey RS, Lackner AA. Nonhuman Primate Models and Understanding the Pathogenesis of HIV Infection and AIDS. ILAR J. 2017; 58(2): 160-71. IPMCID: PMC5886333
Xu H, Wang X, Veazey RS. Mucosal immunology of HIV infection. Immunol Rev 2013; 254(1) 10-33. PMCID: PMC3693769
Veazey RS. Mucosal immunopathogenesis of HIV infection: implications for vaccine development. Future HIV Therapy. 2007; 1(1): 103-12. Invited review.
Lackner AA, Mohan M, Veazey RS. The gastrointestinal tract and AIDS pathogenesis. Gastroenterology. 2009; 136(6): 1965-78. Invited review. PMCID: PMC3755960
Veazey RS. Animal models for microbicide safety and efficacy testing. Curr Opin HIV AIDS. 2013; 8(4): 295-303. Invited review. PMCID: PMC3703742