Brooke Fahrig Grasperge, DVM, DACLAM
Associate Professor of Medicine
18703 Three Rivers Road, Covington, LA 70433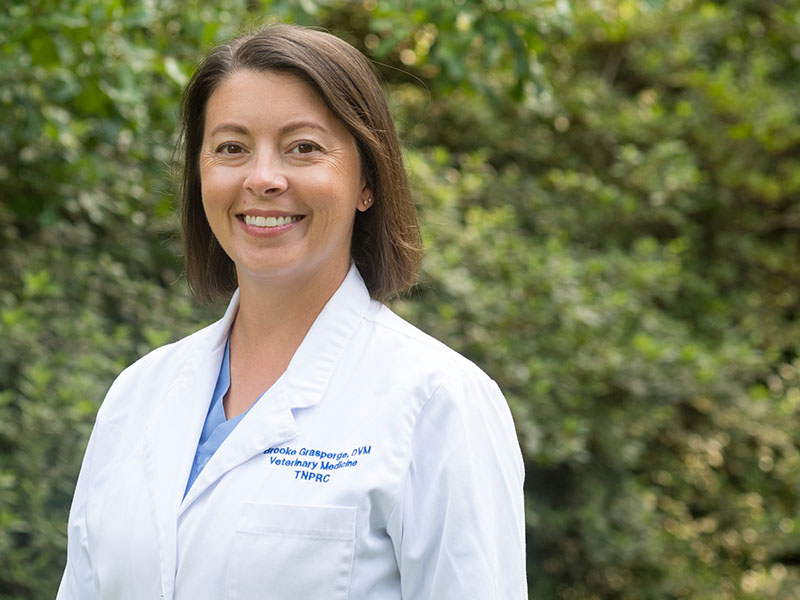 Education & Affiliations
Louisiana State University, BS in Microbiology, 2000
Louisiana State University, MS in Animal Science, Reproductive Physiology, 2003
Louisiana State University, DVM, 2007
Louisiana State University, Certificate of Residency in Laboratory Animal Medicine
Contributions
Stahl EC, Bonvillain RW, Skillen CD, Burger BL, Hara H, Lee W, Trygg CB, Didier PJ, Grasperge BF, Pashos NC, Bunnell BA, Bianchi J, Ayares DL, Guthrie KI, Brown BN, Petersen TH. Evaluation of the host immune response to decellularized lung scaffolds derived from α-Gal knockout pigs in a non-human primate model. Biomaterials. 2018 Dec;187:93-104. doi: 10.1016/j.biomaterials.2018.09.038. Epub 2018 Sep 28. PubMed PMID: 30312852.
Derby N, Lal M, Aravantinou M, Kizima L, Barnable P, Rodriguez A, Lai M, Wesenberg A, Ugaonkar S, Levendosky K, Mizenina O, Kleinbeck K, Lifson JD, Peet MM, Lloyd Z, Benson M, Heneine W, O'Keefe BR, Robbiani M, Martinelli E, Grasperge B, Blanchard J, Gettie A, Teleshova N, Fernández-Romero JA, Zydowsky TM. Griffithsin carrageenan fast dissolving inserts prevent SHIV HSV-2 and HPV infections in vivo. Nat Commun. 2018 Sep 24;9(1):3881. doi: 10.1038/s41467-018-06349-0. PubMed PMID: 30250170; PubMed Central PMCID: PMC6155161.
Calenda G, Keawvichit R, Arrode-Brusés G, Pattanapanyasat K, Frank I, Byrareddy SN, Arthos J, Cicala C, Grasperge B, Blanchard JL, Gettie A, Reimann KA, Ansari AA, Martinelli E. Integrin α4β7 Blockade Preferentially Impacts CCR6+ Lymphocyte Subsets in Blood and Mucosal Tissues of Naive Rhesus Macaques. J Immunol. 2018 Jan 15;200(2):810-820. doi: 10.4049/jimmunol.1701150. Epub 2017 Dec 1. PubMed PMID: 29196458; PubMed Central PMCID: PMC5760460.
Datta D, Bansal GP, Grasperge B, Martin DS, Philipp M, Gerloff D, Ellefsen B, Hannaman D, Kumar N. Comparative functional potency of DNA vaccines encoding Plasmodium falciparum transmission blocking target antigens Pfs48/45 and Pfs25 administered alone or in combination by in vivo electroporation in rhesus macaques. Vaccine. 2017 Dec 15;35(50):7049-7056. doi: 10.1016/j.vaccine.2017.10.042. Epub 2017 Nov 10. PubMed PMID: 29132995; PubMed Central PMCID: PMC5728386.
Aravantinou M, Mizenina O, Calenda G, Kenney J, Frank I, Lifson JD, Szpara M, Jing L, Koelle DM, Teleshova N, Grasperge B, Blanchard J, Gettie A, Martinelli E, Derby N. Experimental Oral Herpes Simplex Virus-1 (HSV-1) Co-infection in Simian Immunodeficiency Virus (SIV)-Infected Rhesus Macaques. Front Microbiol. 2017;8:2342. doi: 10.3389/fmicb.2017.02342. eCollection 2017. PubMed PMID: 29259582; PubMed Central PMCID: PMC5723348.