Brandon Beddingfield, PhD
Assistant Professor of Microbiology and Immunology
18703 Three Rivers Road, Covington, LA 70433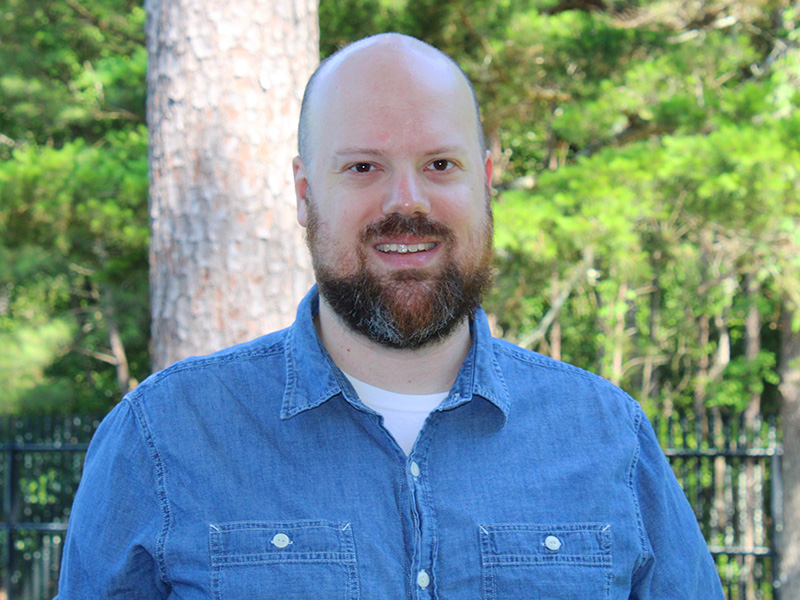 Education & Affiliations
B.S., Biology, University of Texas at Tyler
M.S., Biology, University of Texas at Tyler
Ph.D., Biomedical Sciences, Tulane University School of Medicine
Research
The goal of my research centers around antibody-mediated protection against viral infections, predominantly those of respiratory origin.  I utilize animal models of human viral infections to achieve this goal.  My work spans a numbers of viruses, including SARS-CoV-2, Zika, and Eastern Equine Encephalitis Virus.  Some of my work involves vaccination strategies to induce robust, specific, immune responses to provide long-term protection against viral disease and airborne transmission.  Other work involves eliciting cross-reactive antibody responses that may provide protection against multiple, related, viruses.
I also have an interest in toxin-mediated disease, including botulinum toxin and ricin toxin.  These toxins act within the cell in order to induce their pathogenic effects.  Eliciting antibody responses that act within the cell, termed intrabodies, may serve to abrogate their virulence at later time points than traditional extracellular antibodies.  We are in the process of developing antibodies that neutralize multiple serotypes of botulinum toxin that may have the potential to be further developed into intrabodies for more robust and inclusive protection.
Most of my work involves working within the confines of the Biosafety levels 3 laboratories at the Regional Biosafety Laboratory located on the TNPRC campus.  We utilize animal models, in vitro neutralization and binding assays, next generation viral sequencing, and immunological techniques to assess viral pathogenesis, host protection, and immunity.
Research Programs
 
---
SARS-CoV-2
Respiratory Viruses
Alphaviruses
Flaviviruses
Nonhuman Primate Model Development
Therapeutics and Vaccines
Emerging Viral Infections
Antibody-mediated Immunity
Contributions
Select Publications
---
Beddingfield BJ, Maness NJ, Spencer S, Rappaport J, Aye PP, Russell-Lodrigue K, Doyle-Meyers LA, Blair RV, Gao H, Montefiori D, Roy CJ. Mid-titer human convalescent plasma administration results in suboptimal prophylaxis against SARS-CoV-2 infection in rhesus macaques. Front Immunol. 2023;14:1085883. doi: 10.3389/fimmu.2023.1085883. eCollection 2023. PubMed PMID: 36845143; PubMed Central PMCID: PMC9950397.
Beddingfield BJ, Rowe LA, Russell-Lodrigue KE, Doyle-Meyers LA, Golden N, Spencer S, Chirichella N, Blair RV, Maness NJ, Roy CJ. Breakthrough Gastrointestinal COVID-19 and Intrahost Evolution Consequent to Combination Monoclonal Antibody Prophylaxis. J Infect Dis. 2022 Nov 1;226(9):1588-1592. doi: 10.1093/infdis/jiac134. PubMed PMID: 35429402; PubMed Central PMCID: PMC9213849.
Arunachalam PS, Feng Y, Ashraf U, Hu M, Walls AC, Edara VV, Zarnitsyna VI, Aye PP, Golden N, Miranda MC, Green KWM, Threeton BM, Maness NJ, Beddingfield BJ, Bohm RP, Scheuermann SE, Goff K, Dufour J, Russell-Lodrigue K, Kepl E, Fiala B, Wrenn S, Ravichandran R, Ellis D, Carter L, Rogers K, Shirreff LM, Ferrell DE, Deb Adhikary NR, Fontenot J, Hammond HL, Frieman M, Grifoni A, Sette A, O'Hagan DT, Van Der Most R, Rappuoli R, Villinger F, Kleanthous H, Rappaport J, Suthar MS, Veesler D, Wang TT, King NP, Pulendran B. Durable protection against the SARS-CoV-2 Omicron variant is induced by an adjuvanted subunit vaccine. Sci Transl Med. 2022 Aug 17;14(658):eabq4130. doi: 10.1126/scitranslmed.abq4130. Epub 2022 Aug 17. PubMed PMID: 35976993.
Fears AC, Beddingfield BJ, Chirichella NR, Slisarenko N, Killeen SZ, Redmann RK, Goff K, Spencer S, Picou B, Golden N, Midkiff CC, Bush DJ, Branco LM, Boisen ML, Gao H, Montefiori DC, Blair RV, Doyle-Meyers LA, Russell-Lodrigue K, Maness NJ, Roy CJ. Exposure modality influences viral kinetics but not respiratory outcome of COVID-19 in multiple nonhuman primate species. PLoS Pathog. 2022 Jul;18(7):e1010618. doi: 10.1371/journal.ppat.1010618. eCollection 2022 Jul. PubMed PMID: 35789343; PubMed Central PMCID: PMC9286241.
Melnik LI, Guha S, Ghimire J, Smither AR, Beddingfield BJ, Hoffmann AR, Sun L, Ungerleider NA, Baddoo MC, Flemington EK, Gallaher WR, Wimley WC, Garry RF. Ebola virus delta peptide is an enterotoxin. Cell Rep. 2022 Jan 4;38(1):110172. doi: 10.1016/j.celrep.2021.110172. PubMed PMID: 34986351.